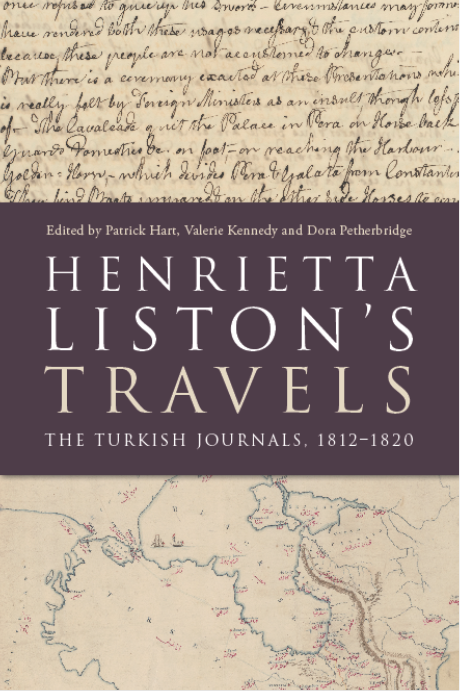 A unique view of 19th century Constantinople
Two hundred years after her departure from Ottoman Istanbul (then Constantinople) the Turkish journals of Scottish diarist and botanist, Henrietta Liston, have been published for the first time in a new book.
'Henrietta Liston's Travels: The Turkish Journals 1812–1820', published by Edinburgh University Press, is a collaboration between scholars at the National Library of Scotland and Bilkent University, Ankara, and is coupled with a digital resource hosted by the National Library. 
National Library Curator Dora Petherbridge, co-editor of 'Henrietta Liston's Travels', said:
"In 1812 Henrietta travelled to the heart of the Ottoman Empire. Her husband, the esteemed Scottish diplomat Robert Liston had been appointed British ambassador to the Sublime Porte. The Listons sailed the Mediterranean on the Argo and through the Aegean to the Dardanelles. They arrived in Turkey in June, found the cherries in 'great perfection' and Mahmud II, the young Sultan, about to begin the fourth year of his reign. Rowed at the Sultan's expense in 'a little flotilla' across the Sea of Marmara, they arrived in Constantinople and were welcomed, Henrietta said, by a 'great crowd – male and female, of Turks, Greeks, Jews and Christians'.
"Over almost eight years' residency in the Ottoman Empire, Henrietta, as diplomat's consort, kept up 'a friendly intercourse with all mankind'. She also kept travel journals which are preserved in the Liston Papers archive here at the Library. Henrietta's enquiring voice takes us with her to walk through Constantinople 'as much incognito as possible', to watch pilgrims depart on the hajj, to see burial grounds full of victims of the plague and to marvel at Mount Olympus. She is fascinated by the mosques, the practice of Ramazan, and by sultanic power. Full of opinion, curiosity and wonderment, Henrietta's writing shows her consciousness that she looked at Turkey with the 'eye of a stranger' and reveals her awareness of her role in the Anglo-Ottoman relationship."
Dr Patrick Hart of Bilkent University said:
"Henrietta Liston's travel journals of 1812-1820 offer a unique and colourful view of the Mediterranean and of Constantinople and its environs. Until now they have been almost completely unknown, never having appeared in print. Together our book and digital resource will introduce Liston's writings to a wide readership by providing a modernised, readable edition alongside free access to digital facsimiles of the manuscripts and semi-diplomatic transcriptions. The multi-authored introduction to our edition sets Liston's Turkish journals within their various contexts, situating them in relation to Ottoman current affairs and international diplomacy as well as other British women's tales of Turkish travels. We hope that this celebration of Henrietta Liston's writing will inspire readers as much as Turkey inspired her."
Ms Petherbridge adds:
"Neither Robert nor Henrietta had aristocratic or diplomatic family origins. But, the Listons were an influential couple who moved in circles that included presidents, politicians, writers, and monarchs. Henrietta writes about Sultan Mahmud II, the Ottoman elite and the European diplomatic corps with discernment and wit. She was an informed observer of international politics. Her journals demonstrate her political nous and sensitivity to the politics of character. Henrietta looks at the reputation of the men she encounters and weighs it in the balance."
Born in Antigua to a family of planters, Henrietta was orphaned by the age of eight. Sent to Scotland, she was raised in Glasgow where she lived until, aged 44, she married the diplomat Robert Liston. Her marriage was transformative. As diplomat's wife, she exchanged her private life in Glasgow for a public one of politics, royal courts, travel, and socialising on a grand scale.
The new book and digital resource invite readers to be transported – to observe Liston's informal diplomacy at work, and to accompany her as she rode 'à la Turque' (astride) on a Turkish saddle, compared her clothes with those of Turkish women she met, and ate kebab for the first time. On leaving Turkey, Henrietta said: 'Every local object […] became interesting to me, by the painful idea of seeing them for the last time.' 
'Henrietta Liston's Travels: The Turkish Journals 1812–1820', edited by Patrick Hart, Valerie Kennedy and Dora Petherbridge, is accompanied by a freely available digital resource. It includes a collection of Liston's digitised manuscript journals alongside transcriptions and other materials, and an interactive map documenting the Listons' extensive travels. The resource also features a series of long reads by authors such as Sara Sheridan, Ece Temelkuran and Maureen Freely which reflect on her time in the Ottoman Empire. The resource is available on the Library's website, and people can purchase the book from the Library's online shop.
The Library is also hosting an online event celebrating the launch of the book and resource on Wednesday 4 November. The book's editors – Dora Petherbridge, Dr Patrick Hart and Associate Editor Dr Özden Mercan – will offer insights into editing Liston's manuscripts, and her views on life in Turkey, her observations on sultanic power, the plague, and Ottoman women in an empire on the cusp of reform. People can register for the free event via the Library's website. 
Twitter: @HenriettaListon  
Contact Information
Barbara Burke
National Library of Scotland
+44131 623 3738
+447904 791002
Notes to editors
The National Library of Scotland
The National Library of Scotland is a major European research library and one of the world's leading centres for the study of Scotland and the Scots – an information treasure trove for Scotland's knowledge, history and culture.
The Library's collections are of world-class importance. Key areas include rare books, manuscripts, maps, photographs, music, moving images, official publications, science and technology, and modern and foreign collections.
The Library holds more than 30 million physical items dating back over 1000 years in addition to a growing library of digital material. Every week the Library collects around 5,000 new items. Most of these are received in terms of Legal Deposit legislation, allowing the Library to claim a copy of everything published in the UK and Ireland (everything from children's books to science journals, election leaflets to magazines and websites). www.nls.uk / @natlibscot / facebook