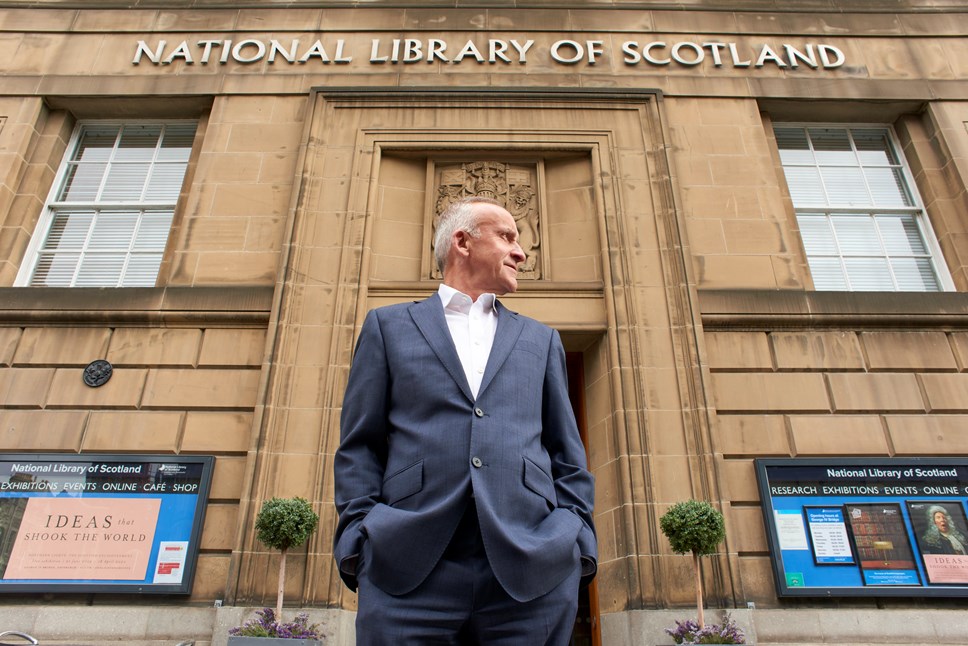 Dr John Scally to step down as National Librarian
The National Librarian and Chief Executive of the National Library of Scotland, Dr John Scally, has announced he will retire this year.
Dr Scally took over as Chief Executive in 2014 and immediately set the Library on a programme of transformation, taking the Library up to its centenary in 2025. This included the 'One Third Digital' initiative, a pledge to have a third of the Library's holdings in digital format and freely accessible online. There was also an increased focus on listing and making available the Library's 'Hidden Collections' (collections yet to be catalogued), which means researchers will have full access to the Library's entire collections by 2025. He also launched the Library's Data Foundry – publishing Library collections as data for digital scholars. Dr Scally oversaw major capital projects totalling £15 million – the redevelopment of the Library's Causewayside building in Edinburgh, and the establishment of the Library's state-of-the-art facility at Kelvin Hall in Glasgow, which houses the Moving Image Archive.
Dr John Scally had a critical role in the acquisition of a number of high-profile collections. He worked with crime novelist Ian Rankin to secure the donation of his literary archive to the Library, which is now available for public consultation. He was also instrumental in saving what was deemed the last great collection of Scottish photography still in private hands for the nation – the MacKinnon Collection – in conjunction with the National Galleries of Scotland. He also oversaw the acquisition of Scotland's first printed work, the Aberdeen Breviary (1509), the working manuscript of cantos I, II and V of Lord Byron's Don Juan, and other works of great significance for Scotland and the world.
Chair of the Library Board, Simon Learoyd, said:
"Dr John Scally has been an outstanding National Librarian. He has been an inspirational and transformational leader who leaves the National Library – one of the great globally renowned research libraries – well placed to face the opportunities and challenges of the future. He can take enormous pride in all that he has achieved and he will be greatly missed by his colleagues, the Board and the wider Scottish cultural family. I have worked with John for many years and it is with great sadness that I heard of John's plans to retire. I wish him a full and happy retirement."
Over the past seven years, the Library at George IV Bridge has enjoyed an increase in visitor numbers for its exhibitions and events, typically attracting more than 100,000 visitors a year. Visits to the Library's website have doubled over the past seven years, reaching 6.8 million last year. To further this momentum, Dr Scally launched Reaching People: Library Strategy 2020–2025 in September last year – a commitment to make the Library's collections and services more representative of the whole nation. The strategy heralds radical changes to the way the Library engages its audiences, which will further transform the Library into a more dynamic and welcoming cultural destination in time for its centenary in 2025.
Dr John Scally said:
"I am very proud of what the National Library has achieved in the last seven years. We executed a remarkable digital transformation at scale with millions of digital items created and shared for research and learning, we opened a brand new facility in Glasgow dedicated to moving image and sound, our physical collections have been secured through a building refurbishment and the take-up of our services has been astonishing. As an example, our digital maps service now attracts 10,000 visitor sessions every day. All of this work continues at pace.
"The launch of our new strategy last year, Reaching People: 2020-2025, builds on these successes and creates the route to further achievements. Of course, COVID hit us like a bolt from the blue, but in a matter of hours we were shifting online at even greater speed and flipping our staff to home-working. We now have a largely mobile workforce able to work anywhere with an internet connection. Our online events regularly have 500 attendees from across the globe, but we still need someone to join us from Antarctica. I feel the Library has such a great mission, dedicated and expert staff, and a clear view of its future as Scotland's National Library for the 21st century. I will leave with a great fondness for the Library and its superb staff."
Dr John Scally will retire from his position as National Librarian in October.
Contact Information
Barbara Burke
National Library of Scotland
+44131 623 3738
+447904 791002
Notes to editors
Dr John Scally
John Scally has, for the past seven years, held the post of National Librarian and Chief Executive of the National Library of Scotland. He was previously Deputy Head of Rare Books at the Library before becoming Director of University Collections and subsequently Director of Library and University Collections at the University of Edinburgh. He is a member of the British Library Advisory Council and a Board member of the Scottish Library Information Council (SLIC) and the Scottish Confederation of University and Research Libraries (SCURL).
Educated at St Mirin's Academy, Paisley, the University of Strathclyde, the University of Cambridge and the University of Wales, John holds a BA in English and Modern History (UoS), a Diploma in Information and Library Studies (UoW) and a PhD in History (Cambridge).
Dr Scally has a number of research interests, including book history, book illustration and early modern history with a particular focus on the 17th and 18th centuries. He has published on a number of these topics, including a book on Robert Louis Stevenson's illustrators, articles and book chapters on the Scottish Parliament before 1707 and the British Civil Wars of the 1640s. He has taught and guest lectured in a number of institutions and was involved in establishing the MSc in the History of the Book at the University of Edinburgh.
The National Library of Scotland
The National Library of Scotland is a major European research library and one of the world's leading centres for the study of Scotland and the Scots – an information treasure trove of Scotland's knowledge, history and culture.
The Library's collections are of world-class importance. Key areas include rare books, manuscripts, maps, photographs, music, moving images, official publications, science and technology, and modern and foreign collections.
The Library holds more than 30 million physical items dating back over 1000 years in addition to a growing library of digital material. Every week the Library collects around 5,000 new items. Most of these are received in terms of Legal Deposit legislation, allowing the Library to claim a copy of everything published in the UK and Ireland (everything from children's books to science journals, election leaflets to magazines and websites). www.nls.uk / @natlibscot / facebook