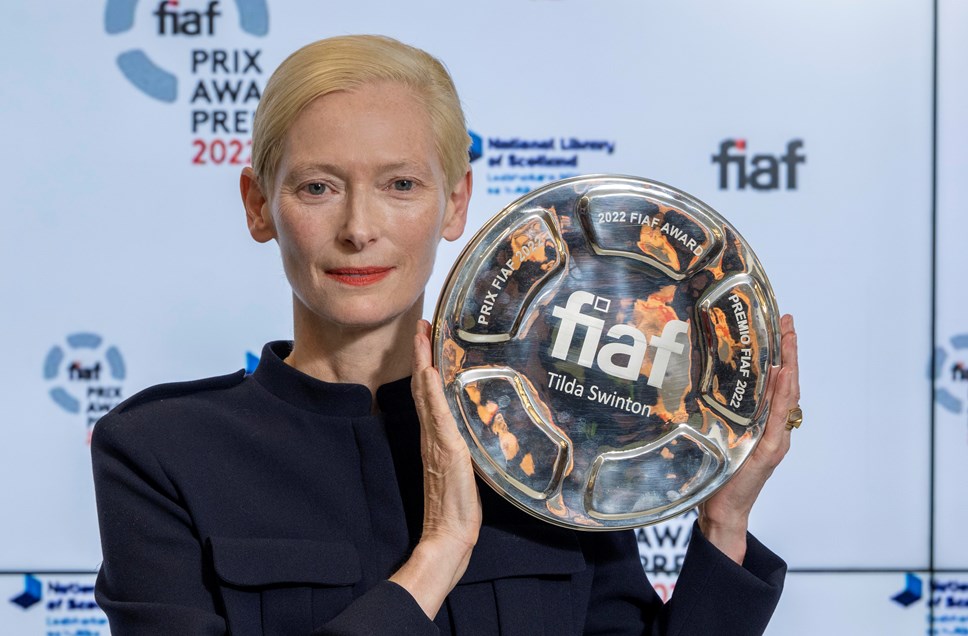 Tilda Swinton receives international film archive award
The International Federation of Film Archives (FIAF) presented its annual award to Tilda Swinton this evening (28 November) for her advocacy of film heritage.
Presented at a special ceremony at the National Library of Scotland in Glasgow, Swinton was awarded for her work on the preservation and promotion of archive film, film history (and in particular women's role in it), and the importance of film archives worldwide.
While Swinton is one of the most sought-after actors working today, her work has extended beyond narrative film. She played a key role as narrator in Mark Cousins' 14-hour documentary 'Women Make Film', and also collaborated with Isaac Julien on the film 'Derek' – the story of Derek Jarman using archive footage. Her advocacy contributed to the successful fight to save Derek Jarman's cottage, where she filmed one of her early collaborations with the filmmaker in 1990. Swinton also supports film archives wherever she happens to be working – having recently delivered a masterclass series alongside Apichatpong Weerasethakul at the Thai Film Archive.
FIAF President Frédéric Maire said:
"Tilda Swinton is one of the most important personalities in contemporary cinema worldwide, demonstrating unwavering commitment to cinema in all its forms. Over the years, she has advocated for the preservation and enhancement of film heritage, including publicly supporting the work of film archives, and promoting restored films. By accepting this award, Swinton honours the international moving image archive community."
Tilda Swinton said:
"To be recognised by FIAF, a body whose work I admire so much, is a profound honour. The diligence with which they bend our attention to the essential foundation to world culture laid by our cinema legacy is something for which I am sincerely grateful. It has long been my view that cinema is our chance: I believe that, in opening our eyes to a wide, wild screen, it has the capacity to transform our hearts and our minds, our sense of belonging and our capacity to feel compassion for humanity.
"In protecting and elevating the roots of our film culture FIAF encourages our fellowship and faith and very probably our ability to visualise a cinema of the future. I am beyond proud to have any opportunity to reflect and champion their work and if accepting this honour can help in any way, I am in, with bells on."
National Librarian and Chief Executive of the National Library of Scotland, Amina Shah said:
"We were delighted to host this award ceremony in recognition of Tilda Swinton's achievements. As the home of Scotland's moving image archive, we place great value in the preservation and promotion of our film and documentary heritage. Despite her illustrious career in cinema, Tilda Swinton has made time to pursue advocacy work. This award is much deserved and we offer huge congratulations."
The ceremony took place to coincide with a meeting of FIAF's Executive Committee, held at the National Library of Scotland at Kelvin Hall. The Library is a member of FIAF, which is the world's largest and oldest international network of cinematheques and film archives.
Contact Information
Barbara Burke
National Library of Scotland
+44131 623 3738
+447904 791002
Notes to editors
Tilda Swinton is one of the most versatile actors working today, as comfortable in the films of visionary filmmakers such as Derek Jarman (whose artistic legacy she has worked hard to protect) and Apichatpong Weerasethakul as she is starring in the massive blockbusters of the Avengers franchise. From her breakthrough performance in the title role in Sally Potter's 'Orlando', Swinton's career has been defined by adventurous performances and daring transformations, and her filmography incudes a breathtakingly diverse collection of roles across the broad spectrum of cinema.
In 2020, The New York Times ranked Swinton thirteenth on its list of "The Greatest Actors of the 21st Century". Throughout her career so far, she has received many great accolades, including the Academy Award for Best Supporting Actress, the British Academy Film Award for Best Actress in a Supporting Role, and the European Film Award for Best Actress. She was given the Golden Lion for her body of work by the Venice Film Festival in 2019 and the Academy Museum Visionary Award in 2022.
FIAF Award
Every year since 2001, when Martin Scorsese received the first FIAF Award for his pioneering work in the cause of film preservation, the FIAF Award has been presented to a well-known film personality whose experience and personal dedication to the preservation of, and access to, the world's film heritage, matches FIAF's missions. The recipient of the FIAF Award is chosen by the FIAF Executive Committee on the basis of a shortlist of nominations submitted by staff members of all FIAF-affiliated archives, cinémathèques and film museums worldwide.
This year, the Executive Committee enthusiastically supported Swinton's nomination, which was put forward by Sandra den Hamer, Director of Eye Filmmuseum in Amsterdam, to recognise Swinton's long-time personal interest in, and dedication to, cinema in all its diversity, but also film history (and in particular women's role in it), and the work of film archives to save this unique heritage and make it accessible to today's and tomorrow's audiences.
Previous illustrious recipients of the FIAF Award include Manoel de Oliveira (2002), Ingmar Bergman (2003), Geraldine Chaplin (2004), Mike Leigh (2005), Hou Hsiao-hsien (2006), Peter Bogdanovich (2007), Nelson Pereira dos Santos (2008), Rithy Panh (2009), Liv Ullmann (2010), Kyoko Kagawa (2011), Agnès Varda (2013), Jan Švankmajer (2014), Yervant Gianikian and Angela Ricci Lucchi (2015), Jean-Pierre and Luc Dardenne (2016), Christopher Nolan (2017), Apichatpong Weerasethakul (2018), Jean-Luc Godard (2019), Walter Salles (2020), and Amitabh Bachchan (2021).
About FIAF
FIAF, the International Federation of Film Archives, is a global organisation dedicated to the preservation of, and access to, the world's moving-image heritage. Founded in 1938 by four of the first film archives (the British Film Institute in London, the Cinémathèque française in Paris, The Museum of Modern Art in New York, and the Reichsfilmarchiv in Berlin), 84 years later FIAF brings together 173 film heritage institutions in 80 countries. FIAF fosters solidarity, exchange, and co-operation between the most prominent cinematheques and film archives worldwide.
FIAF published and strives to uphold the Code of Ethics for film preservation and standards for all areas of film archive work, promotes the creation of moving image archives in countries which lack them, encourages the collection and preservation of documents and materials relating to the cinema, seeks the improvement of the legal context in which archives operate, ensures the permanent availability of material from the collections for study and research by the wider community, and develops co-operation between members to ensure the international availability of all films and documents.
FIAF also oversees an ambitious Training & Outreach programme, which runs or takes part in training events for professionals of the moving image archiving field all over the world, and provides assistance to new archives or those at risk.
FIAF publishes the bi-annual 'Journal of Film Preservation' (a key platform for discussions on all theoretical, technical, and historical aspects of moving image archival activities), the International Index to Film Periodicals and the Treasures from the Film Archives database – two research tools dear to scholars and researchers around the world, and a wealth of other resources, many of which can be found in digital form on the FIAF website (www.fiafnet.org).
FIAF is an official partner of UNESCO (with consultative status) and is a member of the Co-ordinating Council of Audiovisual Archives Associations (CCAAA), which represents the interests of worldwide professional archive organizations having interests in audiovisual materials and co-ordinates the celebrations of the World Day for Audiovisual Heritage each year on 27 October.
Contact: c.dupin@fiafnet.org
About the National Library of Scotland
The National Library of Scotland
The National Library of Scotland is a major European research library and one of the world's leading centres for the study of Scotland and the Scots – an information treasure trove for Scotland's knowledge, history and culture.
The Library's collections are of international importance. Key formats include rare books, manuscripts, maps, photographs, music, films and official publications.
The Library holds more than 30 million physical items dating back more than 1,000 years as well as a growing library of digital material. The Moving Image Archive preserves and promotes access to thousands of films, capturing Scotland from the early days of film-making to the present day. www.nls.uk / @natlibscot / facebook