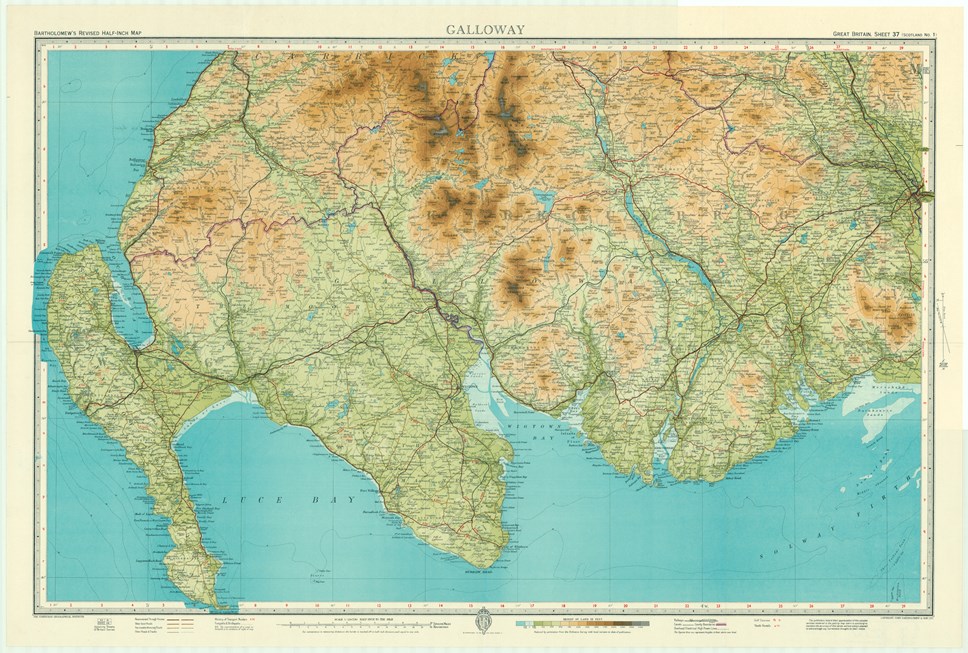 Galloway Scots Scriever sought for prestigious residency
The National Library of Scotland is seeking applications for the one-year long residency as Scots Scriever.
A partnership with Creative Scotland, the residency aims to support the creation of original writing in Scots, as well as the promotion of the language with communities throughout Scotland. This year, the Library is specifically seeking applicants working in Dumfries & Galloway.
National Librarian Amina Shah said:
"Over the past few years we have chosen to be location-specific with our Scriever programme, and this has paid off. Orcadian Scriever Alison Miller delivered excellent work in Orkney in 2022. As we were about to launch our new Treasures exhibition during her residency, we asked if she might respond to the collections items on show. She recited a haunting poem that spoke to Ae Fond Kiss and Bantam, and also linked the archives to the present day, in this case the invasion of Ukraine. Miller was a hard act to follow, but Shane Strachan smashed it as the Doric Scriever this year. He delivered events around the country, including to schools, and produced excellent written work in response to the Library's Scots collections. If you're a writer with a flair for Galloway Scots, and a passionate advocate of the language, we want to hear from you."
Alan Bett, Head of Literature & Publishing at Creative Scotland, said:
"The Scriever offers Scots language writers a unique opportunity to develop new literary works with support from the National Library of Scotland and access to the Library's extensive Scots language collections as inspiration. So much of the vibrancy of Scots comes from the dialects and variations within it, much linked to community and history. This is why, following a focus on Orcadian and Doric over the past two years, the richness of Scots language in Dumfries and Galloway is at the heart of this year's iteration. We're looking forward to a wide range of applications from the many writers working in Scots across its many literary forms."
Shane Strachan has just completed his one-year residency as Scots Scriever. He was recently awarded Scots Champion o the Year at the Scots Language Awards, which took place in Renfrewshire earlier this month.
Strachan said he relished searching through the Library's archives, particularly those in North East Scots (Doric), of which he is a native speaker and published author.
"Being Scots Scriever has gien ma the space, time and resources tae scrieve new wirks in Scots, and the confidence and platform tae write in braider Scots. It's also been an affa rare opportunity tae share my dialect o North East Scots (Doric) tae a much wider audience ootside my hame region, performin tae audiences across Scotland in Edinburgh, Perth, Johnstone and Wigtown, as weel as a conference in Paris!
"Screivers o Dumfries and Gallowa – get applyin!"
The successful Dumfries & Galloway Scriever will produce original written work in Scots in any genre or discipline, and contribute to raising the profile, understanding and appreciation of the Scots language in general. They will also promote the Scots language to local communities in Dumfries & Galloway and further afield through their creative practice, and via other channels such as events and social media.
The primary aim of the 12-month residency is the creation of exciting original work in Scots. While some community engagement work will be encouraged, the Scriever will be expected to prioritise and set aside a significant amount of time during the residency for the development of new written work. This includes time for the exploration of the rich and extensive Scots language collections held at the National Library.
Funded by the National Lottery through Creative Scotland, the postholder will receive a monthly fee of £1250 for the fixed-term residency of 12 months.
The application deadline is 12 noon, Monday 23 October. It's expected and appointment will be made in early November. Full details are on the National Library's careers website. For more detailed information about the residency, visit the National Library of Scotland website > Home | National Library of Scotland (nls.uk)
Contact Information
Barbara Burke
National Library of Scotland
+44131 623 3738
+447904 791002
Notes to editors
The National Library of Scotland
The National Library of Scotland is a major European research library and one of the world's leading centres for the study of Scotland and the Scots – an information treasure trove for Scotland's knowledge, history and culture. The Library's collections are of international importance. Key formats include rare books, manuscripts, maps, photographs, music, moving image and sound.
The Library holds more than 30 million physical items dating back more than 1000 years as well as a growing library of digital material. Every week the Library collects around 5,000 items. Most of these are received under 'legal deposit' legislation, allowing the Library to claim a copy of everything published in the UK and Ireland.
www.nls.uk / @natlibscot / facebook
Creative Scotland is the public body that supports the arts, screen and creative industries across all parts of Scotland distributing funding provided by the Scottish Government and The National Lottery. Further information at creativescotland.com. Follow us on Twitter, Facebook and Instagram. Learn more about the value of art and creativity in Scotland and join in at www.ourcreativevoice.scot
Thanks to National Lottery players, around £30 million is raised every week for arts, community, education, environment, health, heritage and sport projects. Since 1994, The National Lottery has raised more than £42 billion for over 625,000 good causes across the UK. https://www.national-lottery.co.uk/