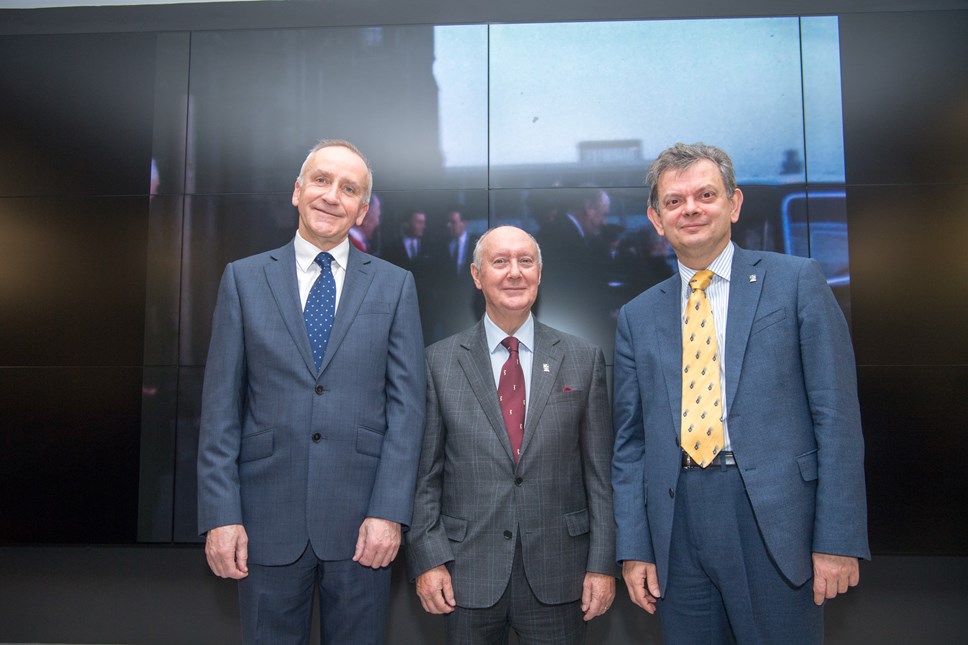 Library formalises partnership with University of Glasgow
The National Library of Scotland and the University of Glasgow have officially agreed on a programme of greater collaboration following a period of increased activity between the two institutions.
Representatives from both research bodies signed a Memorandum of Understanding to ensure they continue to deliver innovative partnerships in the areas of research, teaching, access to collections, knowledge exchange, public engagement and outreach.
National Librarian Dr John Scally said:
"We already have many exciting projects under way with the University of Glasgow. The sheer breadth of activity is what is most impressive and it's vital that we maintain momentum. In the last year, we held the 2018 Muriel Spark International Symposium, and earlier this month we co-hosted a symposium on the correspondence of Robert Burns.
"It is two years since we opened at Glasgow's Kelvin Hall, which houses our moving image and sound collections, as well as providing public access to our vast digital collections. Since then, we have partnered with the University to deliver a number of public and educational lectures and screenings. At the moment, our collaborative doctoral partnerships are looking at the areas of public health, the industrial revolution, and artificial intelligence. Today's signing ensures our dynamic partnership continues to benefit not only the research community, but people throughout the west of Scotland."
Principal of the University of Glasgow, Sir Anton Muscatelli, said:
"This agreement grows out of our longstanding co-operation with the National Library of Scotland, including our 2016 research concordat. The Library currently has more research collaborations with the University of Glasgow than any other higher education institution in Scotland and I fully expect our joint working to go from strength to strength."
Professor Murray Pittock, Pro Vice-Principal, added:
"As digital heritage, curation and content become increasingly important to the creative and cultural industries and to research, the National Library of Scotland is an ideal partner for the University of Glasgow. The Library has a cutting-edge digital strategy and a wealth of expertise in related areas; by combining our talents and skills, both the University and the Library will make a real impact in these fields in the coming years."
Existing and future areas of collaboration include:
The Library's contribution of expertise to the CREATe copyright research centre hosted by the University
A collaborative research project on the complete works of Allan Ramsay
The provision of student placements and internships in both institutions
Skills exchange in archiving and cataloguing
A collaborative research project on text and data mining
The Library's digitisation of oral history tapes from the University's archives as part of the Unlocking Our Sound Heritage project
The signing took place this morning (14 November) at the National Library of Scotland at Kelvin Hall in Glasgow. Signatories were: National Librarian Dr John Scally; Principal of the University of Glasgow, Sir Anton Muscatelli; the National Library's Associate Director of Collections and Research, Robin Smith; and University Secretary and Chief Operating Officer Dr David Duncan.
Contact Information
Barbara Burke
National Library of Scotland
+44131 623 3738
+447904 791002
Notes to editors
The National Library of Scotland
The National Library of Scotland is a major European research library and one of the world's leading centres for the study of Scotland and the Scots – an information treasure trove for Scotland's knowledge, history and culture.
The Library's collections are of world-class importance. Key areas include digital material, rare books, manuscripts, maps, music, moving images, official publications, business information, science and technology, and modern and foreign collections.
The Library holds more than 26 million physical items dating back over 1,000 years in addition to a growing library of e-books, e-journals and other digital material. The collection includes more than four million books, eight million manuscripts, two million maps and more than 45,000 films and videos. Every week the Library collects around 3,000 new items. Most of these are received free of charge in terms of Legal Deposit legislation.
www.nls.uk / @natlibscot / facebook
University of Glasgow
Founded in 1451, the University of Glasgow is the fourth oldest university in the English-speaking world. We are one of the top 100 of the world's universities and have been named Scottish University of the Year by The Times and The Sunday Times Good University Guide 2018. We are ranked joint 69th in the world and were the first UK university to be rated as 5 Stars Plus overall (QS World University Rankings 2019). We are ranked joint 93rd in the world by the Times Higher World University Rankings 2019. We welcome students from more than 140 countries worldwide and have around 28,000 undergraduate and postgraduate students.