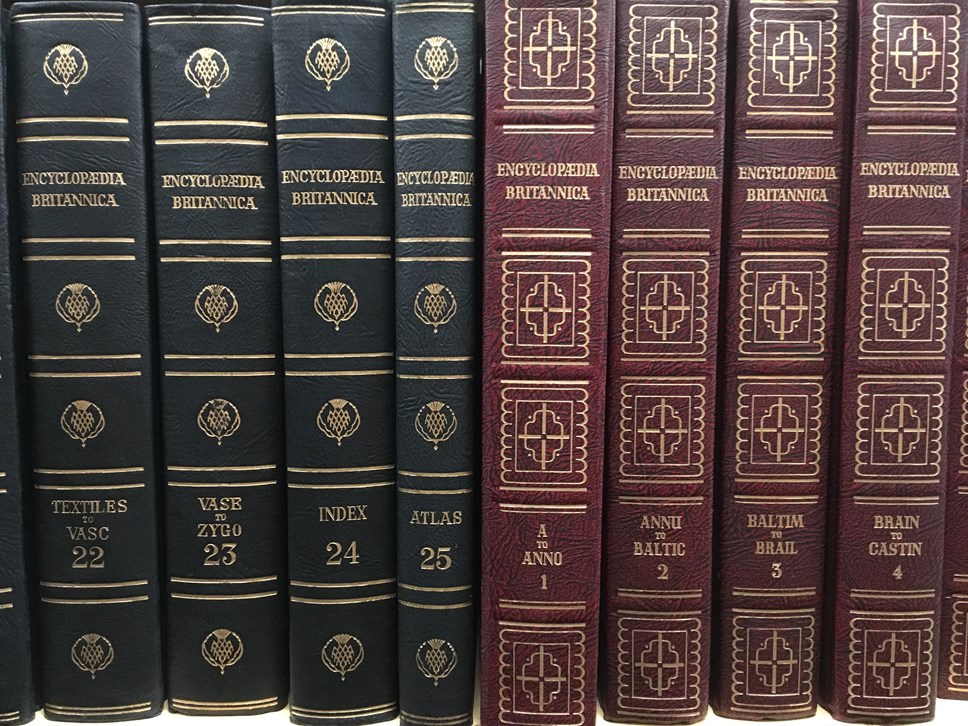 Library's gift to the world to mark Britannica's 250th anniversary
The National Library of Scotland has published online a rare first edition of Encyclopaedia Britannica to mark its 250th anniversary.
Britannica was conceived, compiled, printed and published entirely in Edinburgh, and on 10 December 1768, the first pages were published.
Subscribers were scandalised by explicit engravings – specifically those on midwifery – and it was decreed by the Crown that they be torn out of every copy. However, the National Library has a complete copy in its collections and, thanks to a successful fundraising campaign for its digitisation, has made the first edition available online for all to view.
Rare Books Curator Robert Betteridge said Britannica is one of the enduring achievements of the Scottish Enlightenment. He said:
"By the 20th century Britannica was a household name throughout the English-speaking world, and what is especially interesting about this publication was that it had a distinctly Scottish viewpoint. The first edition emphasised two themes – modern science and Scottish identity, including ground-breaking and controversial articles on anatomy and Scots Law.
"Britannica became viewed as an authoritative source of facts about the world. Its first editor believed strongly in the democratisation of knowledge – that it should be accessible to all who sought self-improvement, regardless of background. We adhere to this belief at the Library, which is why we are working to digitise and make available as many early editions as possible."
Head of Development Lucy Clement said:
"Britannica holds a special place in people's memories. Many donors to our appeal have told us how, in childhood, it piqued their curiosity about the world around them and helped with their homework in the days before Google. They are fascinating time capsules of human knowledge and society's values at particular points in our history and with the public's help, we hope to make many more editions available for free online."
The first edition of Encyclopaedia Britannica will form part of the National Library's major exhibition on the Scottish Enlightenment, due to open in the summer of 2019.
To view the online copy for free, visit www.nls.uk
To donate to the Library's Encyclopaedia Britannica appeal, visit the website.
Background
Encyclopaedia Britannica
The first edition of Encyclopaedia Britannica was undertaken at considerable financial risk by three young tradesmen, none of whom had published anything previously. The two principal partners, who would retain the copyright of its first three editions, were printer Colin Macfarquhar (1744-1793) and engraver Andrew Bell (1753-1832). Macfarquhar, a wigmaker's son, had just opened his printing firm in 1767.
Bell, a baker's son and an apprentice of Scotland's leading engraver Richard Cooper, established his reputation as an engraver through pioneering work for Scots Magazine. There, he met William Smellie (1740-1795), himself a master printer, and editor of the magazine from 1760 to 1765. Smellie agreed to compile the Britannica's first edition for a fee of £200, more than Diderot received for his efforts editing the Encyclopédie, but nothing like the approximately £25,000 Bell and Macfarquhar would jointly accrue from the Britannica's first three editions.
The first edition says that Humans were divided into five categories: European, American, Asiatic, African and Monstrous.
For the first edition, Bell produced three full pages of anatomically accurate depictions of dissected female pelvises and of foetuses in wombs for the midwiferyarticle; these illustrations shocked King George III who commanded that the pages be ripped from every copy. The National Library of Scotland's copy has these pages intact.
The US state of 'Callifornia' was spelt with two 'L's' and is described as 'a large country of the West Indies. Unknown whether it is an island or a peninsula.'
The solar system was described as having six planets – Uranus, Neptune and Pluto have yet to be discovered.
Andrew Bell, the engraver, was 4 foot 6; he had crooked legs and an enormous nose that he would sometimes augment with a papier-mâché version whenever anyone stared at him. Despite his small stature he insisted on always riding the tallest horse available and used a ladder to mount and dismount.
After Macfarquhar died in 1793, Bell bought out his heirs and became sole owner of the Britannicauntil his death in 1809.
Contact Information
Barbara Burke
National Library of Scotland
+44131 623 3738
+447904 791002
Notes to editors
The National Library of Scotland
The National Library of Scotland is a major European research library and one of the world's leading centres for the study of Scotland and the Scots - an information treasure trove for Scotland's knowledge, history and culture.
The Library holds more than 26 million physical items dating back over 1000 years in addition to a growing library of e-books, e-journals and other digital material. Every week the Library collects around 3,000 new items. Most of these are received free of charge in terms of Legal Deposit legislation.