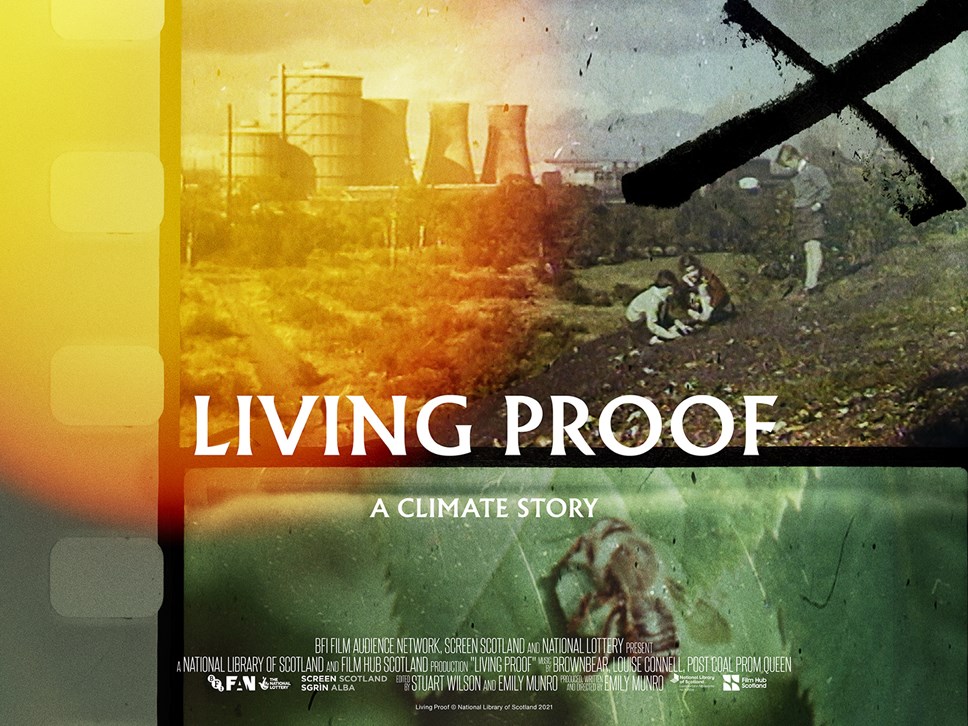 Climate crisis film to tour country from next week
Following sold-out screenings in Edinburgh and Glasgow as part of the Take One Action Film Festival, 'Living Proof – A Climate Story' – is going on tour around Scotland.
Directed by the National Library of Scotland's Dr Emily Munro, Living Proof is a feature-length exploration of Scotland's complex relationship to the global climate crisis, told through archive footage from the Library's collections.
In the year that Scotland hosts the UN's Climate Change Conference (COP26), Munro searches for the roots of the climate crisis in Scotland's history. Archive footage evocatively portrays a country shaped by demands for energy and economic growth, while a dramatic soundtrack amplifies the voices of the past in powerful and unsettling ways. The film reveals Scotland's post-war history as seen through the lens of current debate, inviting audiences on a journey to revisit the promises of the past and consider how they relate to our future on this planet. Was climate change inevitable? Can we break free from a boom-and-bust mentality? Are we able to adapt to ensure a healthy and sustainable future for generations to come?
Emily Munro said:
"I made the film to contribute to the conversation on climate breakdown and recovery. Decisions taken in the past continue to reverberate in our society and it is vital that we understand both the origin and the impact of these as we work out what to do to preserve life on our planet. Films such as 'Power for the Highlands' (1943) tell us how the government tried to tackle the problems of energy and job shortages in Scotland after the Second World War by implementing a huge hydroelectricity plan. But less grandiose productions, such as 'On Site Torness' (1979), document the importance of non-violent collective action to our environmental story. I look forward to sharing this film with communities throughout the country.'
Featuring corporate voices, news reporters, protestors, and the general public, the footage spans the geography of Scotland, taking in the Central Belt, rural southern Scotland, the Highlands and the North Sea, and looks at the most treasured, most contested and most exploited parts of the country. Part found-footage mash-up and part archive collage, Living Proof features a soundtrack that traverses space and time, with contemporary Scottish artists Louise Connell, Brownbear and Post Coal Prom Queen sitting alongside composers Ian Whyte, Frank Spedding, John Maxwell Geddes and David McNiven.
Living Proof will be screened at the following venues:
12 October STIRLING – Macrobert Arts Centre
20–21 October EDINBURGH – Filmhouse
22 October ABERDEEN – The Belmont
29 October INVERNESS – Eden Court
3–4 November GLASGOW – Glasgow Film Theatre
4 November BO'NESS – The Hippodrome
4 November ST ANDREWS – The Byre Theatre
4 November BRODICK, ARRAN – The Screen Machine
6 November GLASGOW – SaltSpace Cooperative
8 November GIRVAN – Girvan Library
11 November STEÒRNABHAGH / STORNOWAY – An Lanntair
14 November DUNOON – Dunoon Film Festival
14 November DUNDEE – Dundee Contemporary Arts
15 November PORT ÌLEIN, ÌLE/ PORT ELLEN, ISLAY – Screen Machine
16 November DUMFRIES – Robert Burns Centre Film Theatre
23 November CEANN LOCH GILB / LOCHGILPHEAD – Screen Machine
Also in November (dates to be confirmed): Tiree, Kirkwall, and Leven.
Living Proof is a partnership project between the National Library of Scotland's Moving Image Archive and Film Hub Scotland.
Contact Information
Barbara Burke
National Library of Scotland
+44131 623 3738
+447904 791002
Notes to editors
Film Hub Scotland
Film Hub Scotland is part of the BFI's Film Audience Network, funded by Screen Scotland and National Lottery funding from the BFI.
www.filmhubscotland.com / @filmhubscotland
The National Library of Scotland
The National Library of Scotland is a major European research library and one of the world's leading centres for the study of Scotland and the Scots – an information treasure trove for Scotland's knowledge, history and culture.
The Library's collections are of international importance. Key formats include rare books, manuscripts, maps, photographs, music, films and official publications.
The Library holds more than 30 million physical items dating back more than 1,000 years as well as a growing library of digital material. The Moving Image Archive preserves and promotes access to thousands of films, capturing Scotland from the early days of film-making to the present day. www.nls.uk / @natlibscot / facebook