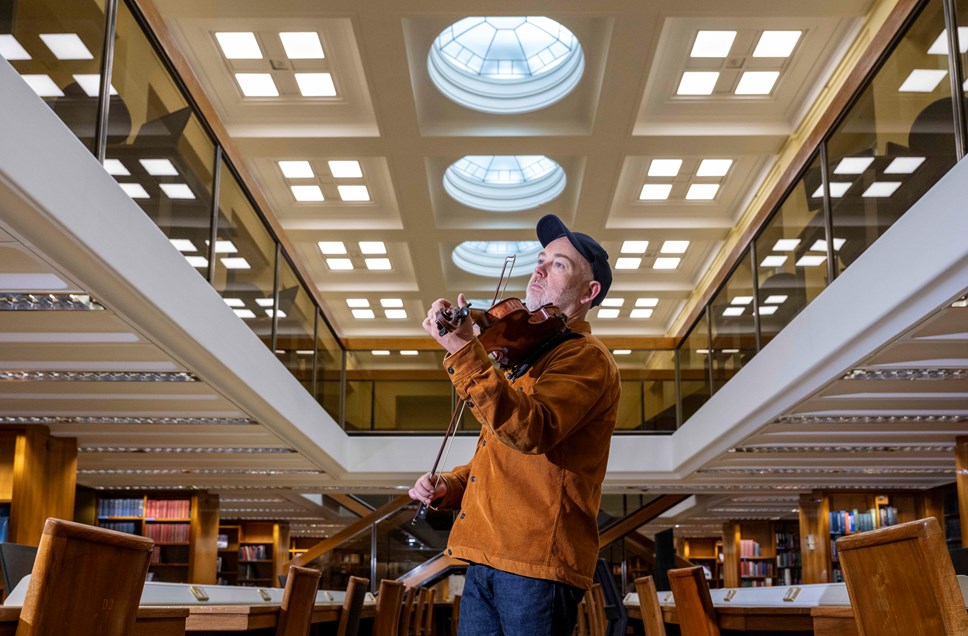 Music to fill National Library's reading rooms
Under the curation of renowned fiddler, Aidan O'Rourke, the National Library of Scotland's reading rooms will be transformed into musical performance spaces.
O'Rourke, alongside musicians Allan MacDonald and Sarah-Jane Summers, and storyteller Eddie Linehan, are teaming up for two performances of Gaelic folklore – called Beacon – on the evening of Saturday 30 September.
Beacon is a response to 'Sgeul | Story: Folktales from the Scottish Highlands', an exhibition now on show at the National Library in Edinburgh. The exhibition tells the story of John Francis Campbell (or Iain Òg Ìle), a 19th-century figure who fell in love with Gaelic language and culture. Working alongside local storytellers and scribes, he collected and printed Gaelic folktales that were in danger of being lost as the oral tradition dwindled. His entire collection of archival material and library books is held in the National Library.
National Librarian Amina Shah said:
"Campbell's archive – steeped in Gaelic culture and folklore – is a rich source of inspiration for artists and musicians. The exhibition space itself is evocative of 19th-century Scotland thanks to Campbell's own artistic rendering of the landscapes and people he encountered on his travels.
"We are committed to experimenting with the collections and our spaces to inspire and entertain people in new ways. So we commissioned Aidan O'Rourke – one of Scotland's most celebrated musicians – to respond to these stories and spaces. We are really looking forward to seeing Beacon in action – transforming our spaces at George IV Bridge into what will be a magical evening."
Examining the collections, O'Rourke was struck by the words of George Webb Dasent, the first translator of the Icelandic sagas into English, here writing to John Francis Campbell about the stories Campbell had told him – specifically the "beautiful likening of light to sound and stories". [At the time, Campbell was Secretary to the Lighthouse Commission, hence the reference to light.]
Said Webb Dasent:
"One [story] is like a flash of lightening, everywhere at once, all over, like one of your lights beaming from a certain distance round a particular spot. Some of those you remember are local traditions; as that connected to the bridge in Islay. The one you told me… is a pure tale. It belongs to no place and is true of all time and religions."
O'Rourke was enthralled with the idea of Campbell sending out a beam of light that sweeps around, collecting tales, ballads and charms. He loved the idea of the 'pure tale' that doesn't belong anywhere but is shared in all our collected consciousness, anywhere in the world.
"So I thought we could all take a walk together through the reading rooms of the National Library. I imagine one of these beams, illuminating glimpses of the various riches that stimulated Campbell.
"We'll hear stories linked to Ossianic ballads from Eddie Linehan – one of the few remaining practising seanchaithe, or traditional Irish lore-keepers. We'll hear Gaelic in story, song and music from one of Scotland's great pipers and singers, Allan McDonald, a true tradition bearer. I'll contribute Highland fiddle tunes and we welcome Sarah-Jane Summers to play Norwegian Hardanger fiddle as a note to Campbell's fascination for Scandinavia."
The event will take people through the National Library's building on George IV Bridge, Edinburgh. It starts in the vaulted foyer and finishes in the Special Collections Reading Room with panoramic views of Arthur's Seat in the distance.
There are two performances of Beacon on the evening of Saturday 30 September, at 6pm and 8.30pm. Doors open 30 minutes before each performance to give access to a paid bar selling alcohol, soft drinks and snacks, as well as a chance to see the exhibition.
Due to the unique nature of the event, tickets are limited to around 30 attendees per performance. Tickets cost £10/£8 (plus booking fee) and can be bought via Eventbrite.
Contact Information
Barbara Burke
National Library of Scotland
+44131 623 3738
+447904 791002
Notes to editors
Notes to editors
The National Library of Scotland
The National Library of Scotland is a major European research library and one of the world's leading centres for the study of Scotland and the Scots – an information treasure trove for Scotland's knowledge, history and culture.
The Library's collections are of international importance. Key formats include rare books, manuscripts, maps, photographs, music, films and official publications.
The Library holds more than 30 million physical items dating back more than 1,000 years as well as a growing library of digital material. www.nls.uk / @natlibscot / facebook
Aidan O'Rourke
Aidan grew up in an Irish family in Argyll and learned fiddle in Oban in the West Highland style. His roots are in Scottish and Irish music, but he has a tendency to roam the edges of those traditions. His trio Lau came together in 2006 and have ventured a new sound in progressive, politically charged folk music. The trio have released six studio albums, multiple live albums and EPs and a retrospective charting their first decade. They won Best Group at the BBC2 Folk Awards an unprecedented four times.
Eddie Lenihan
Author of 20 books for both adults and children, collector and teller of traditional Irish tales over the past 47 years, broadcaster, podcaster and researcher into Irish lore, Eddie Lenihan is still, at 72, doing his best to preserve what remains of Irish oral tradition for future generations. His latest Fionn Mac Cumhail book was published last month.
Sarah-Jane Summers
Originally from Inverness, Sarah-Jane learnt from the legendary Donald Riddell. Now based in Norway, she recently started a PhD in Artistic Research at The Norwegian Academy of Music on Hardanger fiddle. Her latest album with Juhani Silvola was nominated for a Norwegian Grammy (2021). "dazzling folk virtuoso" - The Strad
Allan MacDonald
A leading light in the Gaelic musical scene, Allan MacDonald is in demand internationally as a composer, musical director, piper, singer, workshop leader, and lecturer on Gaelic music. One of his myriad gifts is to make pibroch accessible and lovable. His work as a scholar-performer reuniting 17th-century piping with its Gaelic roots is influencing a whole generation of pipers.