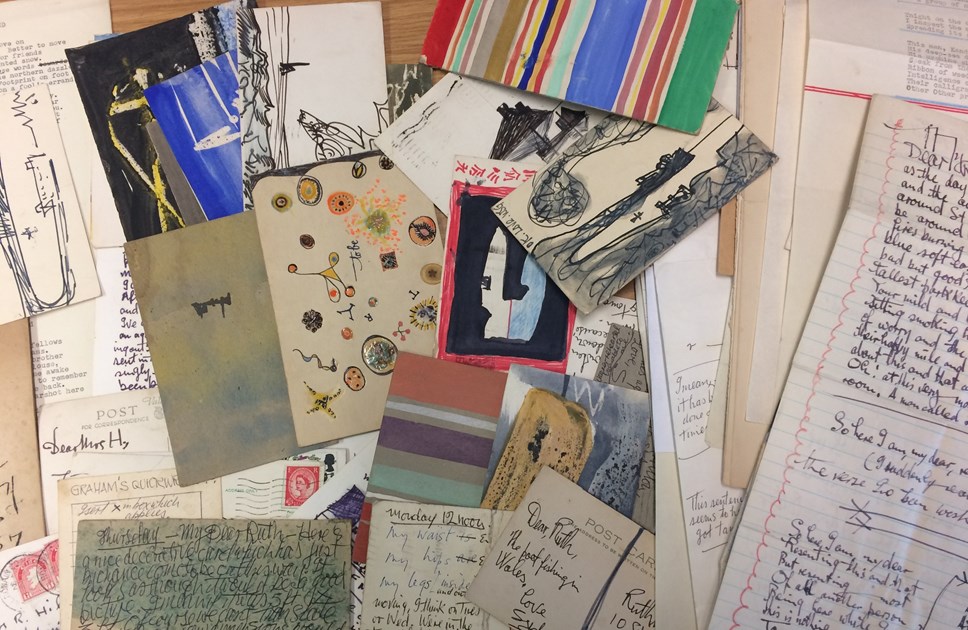 National Library seeks new voices for the collections
A new initiative for emerging writers will see their work added to the national collections alongside literary heavyweights at the National Library of Scotland.
The Library is calling for applications to 'Fresh Ink' – a programme that will award up to 10 emerging writers with a bursary of £1000 – for creative responses to 'my experience of 2020'.
Led by poet, writer, and creative practitioner, Nadine Aisha Jassat, the initiative will provide financial support to emerging writers, and assist their careers by establishing connections with Scotland's most prestigious literary archive.
Ms Jassat said:
"I am delighted to be a part of the National Library of Scotland's Fresh Ink programme. Libraries are homes of stories, and knowledge, and listening; and I'm delighted to see the Library embodying that in its call to Scotland's emerging creatives to hear their experiences of 2020.
"As many have noted, while there may be similarities for many during the pandemic, there have also been stark differences, and each of the creatives contemplating this open call will likely have their own stories to tell – stories which may bring with them resonances, or open doors which say 'this is my story of 2020, and I am here to tell it'. I look forward to hearing some of these stories, to witnessing them becoming part of Scotland's literary heritage in the Library's archives, and to being part of a project which supports the growth of emerging artists in a year which has been filled with so many unknowns and challenges."
National Librarian Dr John Scally said:
"It's fair to say 2020 has been a year like no other, and we believe Scotland's writers will have much to say about it. We encourage writers from across the country, from all walks of life, and from a wide range of perspectives to apply for this initiative.
"The Library has been the 'go-to' location for preserving Scotland's creative writing from the mid-20th century, and it's important that we continue to capture and preserve a wide range of contemporary voices for future generations. This initiative will undoubtedly alert us all to exciting new talent in Scotland."
Commissions will be awarded to those who can evidence their suitability, and their commitment to writing, through the submission of previous work, and the allocation of commissions will be decided by a panel. In return for the award the Library will receive creative literary responses, with writers encouraged to choose from a range of genres and forms including, but not limited to: fiction, poetry, short fiction, graphic novella, drama, flash fiction, and creative non-fiction.
The Library is particularly keen to receive applications from writers from under-represented groups, in particular from women, members of BAME communities, LGBTQ+ communities, people with disabilities, and from the diverse range of social and cultural communities which exist in Scotland. Writers are free to respond in Scots, English, or Gaelic.
The timeline for Fresh Ink is as follows:
Deadline for applications – 4 January 2021
Writers commissioned – 25 January 2021
Commissioned works submitted – 17 March 2021
To find out more and to apply, visit the Library's website.
Contact Information
Barbara Burke
National Library of Scotland
+44131 623 3738
+447904 791002
Notes to editors
The National Library of Scotland
The National Library of Scotland is a major European research library and one of the world's leading centres for the study of Scotland and the Scots – an information treasure trove for Scotland's knowledge, history and culture.
The Library's collections are of world-class importance. Key areas include rare books, manuscripts, maps, photographs, music, moving images, official publications, science and technology, and modern and foreign collections.
The Library holds more than 30 million physical items dating back over 1000 years in addition to a growing library of digital material. Every week the Library collects around 5,000 new items. Most of these are received in terms of Legal Deposit legislation, allowing the Library to claim a copy of everything published in the UK and Ireland (everything from children's books to science journals, election leaflets to magazines and websites). www.nls.uk / @natlibscot / facebook