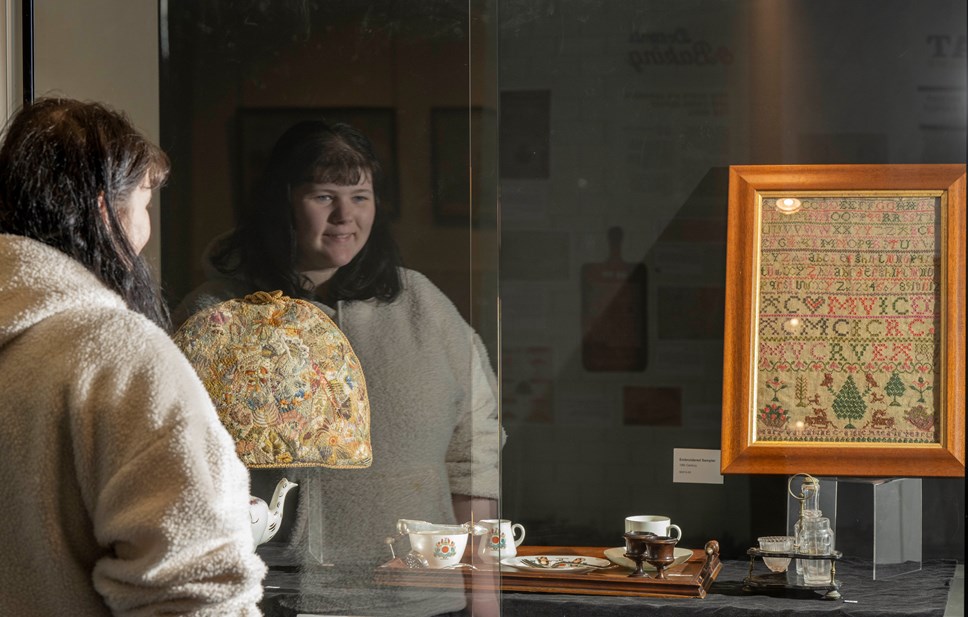 National Library takes displays back on the road
The National Library of Scotland's touring displays have resumed across the country.
The free displays are portable versions of National Library exhibitions and collections:
You Are Here which charts the history of maps in Scotland
Going to the Pictures about Scotland's impact on the big screen
Lifting the Lid which tells the story of over 400 years of Scottish food and drink
Scotland's Photograph Album a brand-new display based on the Mackinnon photography collection – a vast collection documenting a century of Scottish life since the 1840s, jointly owned with the National Galleries of Scotland
The displays enable the National Library to continue to reach new destinations and forge new relationships with local communities as well as organisations across the heritage and culture sectors. The displays have previously travelled to libraries, shopping centres, visitor attractions and local museums, introducing the national collections to people around Scotland.
Host organisations are encouraged to exhibit their own collections alongside the displays to further explore the themes, as well as explore the connections between the national collections and their local area.
National Librarian Amina Shah said:
"We are delighted our displays are back on tour and reaching people all over Scotland. It is especially exciting as we launch the latest display Scotland's Photograph Album, which is drawn from the extensive Mackinnon collection. Scotland has a unique relationship with photography as many of the first practitioners who pushed the medium forward were based in Scotland or were inspired by Scottish subjects, and the display gives a fascinating snapshot of life during this period of immense change.
"The touring displays are an excellent way for us to connect with communities and bring the national collections to life through local connections. The displays are formed around parts of the collections everyone can relate to, be that a map, a film, a dish or a photograph. We hope these displays will resonate with people throughout the country, and evoke memories of significant events in their lives."
Culture Minister Neil Gray said:
"It's wonderful to see these displays, which tell stories using the National Library's unique collections, back on tour around Scotland. This is a fantastic opportunity for local communities as well as cultural and heritage organisations to engage with the Library and discover its fascinating range of exhibitions and what it has on offer, for free."
The schedule for the coming year is as follows:
Lifting the Lid:
January to April
Midlothian Libraries
April to June
Falkirk Library
June to September
The Mercat Shopping Centre, Kirkcaldy
Going to the Pictures:
January to March
Low Parks Museum, Hamilton
April to May
Hawick and Galashiels Library
June to September
Spark, Livingston
September to December
Live Argyll Libraries
You Are Here:
January to March
The Heritage Hub, Hawick
April to May
Orkney Library & Archive
June to August
Carnegie library, Ayr
Scotland's Photograph Album will debut in Stirling Libraries in April.
Each display is made up of 10 eye-catching banners which are complemented by interactive handling boxes that give visitors a hands-on taste of the National Library's collections.
More dates will be added in the coming months – check the Library's website for updates.
To find out more or to book a display for your venue, visit nls.uk/exhibitions or email exhibitions@nls.uk
Contact Information
Barbara Burke
National Library of Scotland
+44131 623 3738
+447904 791002
Notes to editors
NOTES TO EDITORS
About the displays
Scotland's Photograph Album
Scotland's Photograph Album showcases a century of dramatic transformation and innovation in Scotland, with images dating back to the 1840s. The collection was amassed by photography enthusiast Murray MacKinnon and contains more than 14,000 historical photographs. The display transports people back to a period of changing rural communities, growing cities and enduring historic sites. The panels explain how entwined social and photographic history are and give a unique glimpse into the real lives of Scottish people. The accompanying handling box contains historic photograph formats like a lantern slide and Albumen print, so visitors can get first-hand experience of these rare and culturally significant materials.
Lifting the Lid
Lifting the Lid tells the story of food and drink in Scotland, based on photographs and descriptions of material in the National Library's collection. The display will help visitors understand more of how their ancestors lived and how their diet links to what we eat today. It explores how tastes have changed and developed, and the history of food that we think of as quintessentially Scottish. There is an interactive kitchen trolley alongside the display with historic recipes that visitors can take away with them and make at home.
Going to the Pictures
Going to the Pictures looks at cinemas through the ages, representations of Scotland on the silver screen, Scottish locations used for major productions, the golden era of cinema, fandom and Scotland's rich history of documentary filmmaking. The display covers early portrayals of Scotland and its people – from tartan heroes and romantic landscapes to quirky locals and harsh city living. As well as reclaimed stories of Scotland on the modern big screen with a burgeoning film and documentary making tradition. The display is accompanied with a showreel of films from the National Library of Scotland's Moving Image Archive and a handling box with cinema tickets, films strips and a zoetrope.
You Are Here
You Are Here features images of some of the millions of maps held at the National Library. Maps are part of everyday life and help shape how we see and understand the world, but they are not always instruments of objectivity – they are created by individuals, many of whom have their own story to tell. The display poses questions such as: do all maps show real places? Do maps go out-of-date? How is the spherical world made flat? Why is north to the top? The display is complemented by a useful glossary of cartographical terms, and a handling box featuring maps from the Library's collections as well as map tools, globes and curiosities.
About the National Library of Scotland
National Library of Scotland
The National Library of Scotland is a major European research library and one of the world's leading centres for the study of Scotland and the Scots – an information treasure trove for Scotland's knowledge, history and culture.
The Library holds more than 29 million physical items dating back over 1000 years, as well as a growing library of e-books, e-journals and other digital material. The collection includes more than four million books, eight million manuscripts, two million maps and more than 45,000 films and videos. Every week the Library collects around 3,000 new items. Most of these are received free of charge in terms of Legal Deposit legislation.