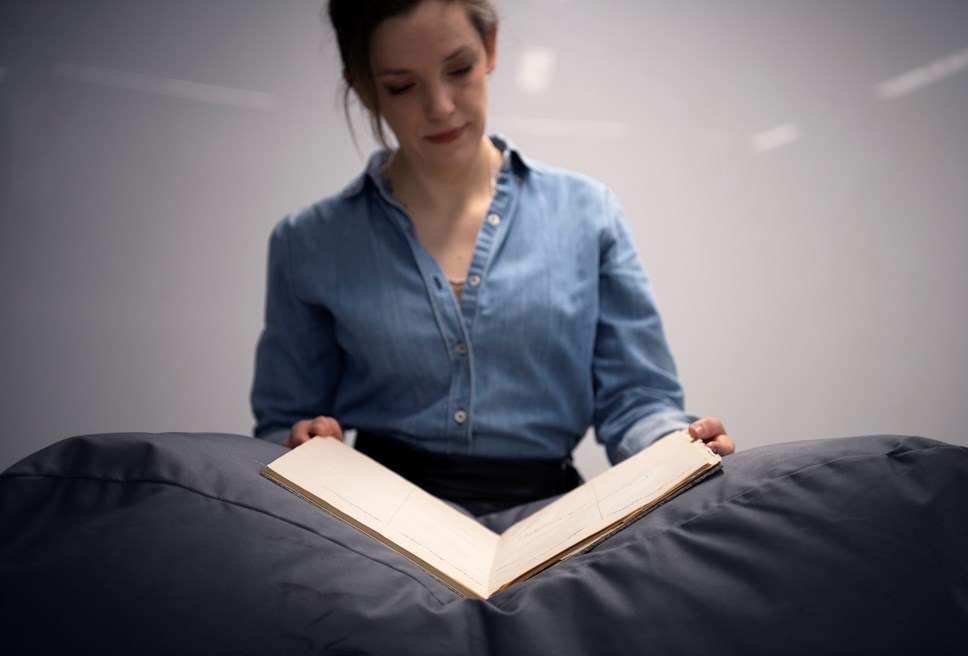 New exhibition explores Scotland's HIV story
The National Library of Scotland has partnered with Waverley Care – Scotland's HIV and Hepatitis C charity – to tell Scotland's HIV and AIDS story through an exhibition opening this week.
Called 'Blood, Sweat and Tears: Scotland's HIV Story', the exhibition looks at community activism and the creativity which characterised the on-the-ground response to the epidemic. It includes a timeline of how society dealt with the epidemic, both locally and internationally. It also focuses on Milestone House, the UK's first purpose-built AIDS hospice.
Waverley Care established Milestone House in Edinburgh in 1991. It was Scotland's first AIDS hospice and was among one of the first in the world. A team of researchers commissioned by Waverley Care developed the exhibition with Library curators.
Exhibition Curator Dora Petherbridge, said:
"Co-curating with the Waverley Care researchers deepened the resonance of the stories that this exhibition tells. In response to the unique situation in Edinburgh in 1980s, many people worked tirelessly to overcome stigma and neglect. Under a climate of fear, homophobia and demonisation, Waverley Care and Milestone House, as well as other organisations such as Scottish AIDS Monitor, offered pioneering support and care for anyone affected by the virus.
"While medical treatment has become extremely advanced over the past few decades, the recent HIV outbreak in Glasgow shows that Scotland's experience of HIV/AIDS is an important story to share."
The exhibition includes items from the Library's collections, as well as items from Waverley Care and the Lothian Health Services Archive at the University of Edinburgh. Artworks made at Milestone House are also displayed – stained glass, a cross-stitch, photographs, mosaics, and a child's drawing. Other exhibits include the 'Red Hot + Blue' songbook from the benefit Annie Lennox performed at for AIDS charities, and the Lothian Health Board's 'Taking Care' campaign material which was sent to every household in the region. The Milestone House visitor book which contains the (then) Princess of Wales's signature from her visit in October 1991 will also be on display.
Francis Osis, Community Heritage Officer from Waverley Care said:
"This exhibition has been a chance to work with people who have lived experience of HIV and allow them to find a way to tell their own story. Stigma around HIV is driven by ignorance, so we hope to use this opportunity to help the public learn about the people behind the epidemic and reflect on their own experiences. The exhibition honours those who campaigned, nursed, raised awareness and funds, those who died and those who survive."
Waverley Care has recently undertaken an oral history project, talking to people involved with HIV in Scotland about their experiences. Their stories inform this exhibition. A selection of clips from the interviews will be available to hear publicly for the first time in the exhibition's listening post, which is hearing-loop compatible. The listening post sits with a Memory Tree, where visitors are invited to share memories, thoughts, and reactions to the exhibition.
'Blood, Sweat and Tears: Scotland's HIV Story' opens on Friday 12 May and runs until 2 December, the day after World AIDS Day.
Contact Information
Stewart Hardy
National Library of Scotland
0131 623 3739
Notes to editors
About Waverley Care
Waverley Care is Scotland's leading HIV and hepatitis C charity, and everything they do is guided by the experiences of the people they work with – this ranges from shaping the services they deliver through to how they influence national policy around sexual health and blood borne viruses.
A positive HIV diagnosis still has the power to knock people off their feet and impact every part of their lives. HIV is treatable, but the stigma and shame surrounding HIV holds people back and makes it different to other life-long conditions. Stigma and the fear of HIV diagnosis still prevents many people at risk getting a test and knowing their status.
Waverley Care's vision is for a Scotland where no one faces HIV alone, they will achieve this by fighting stigma and empowering people living with HIV to live full and healthy lives.
The National Library of Scotland
The National Library of Scotland is a major European research library and one of the world's leading centres for the study of Scotland and the Scots – an information treasure trove for Scotland's knowledge, history and culture.
The Library's collections are of international importance. Key formats include rare books, manuscripts, maps, photographs, music, moving images and official publications.
The Library holds more than 30 million physical items dating back more than 1,000 years as well as a growing library of digital material. Every week the Library collects around 5,000 new items. Most of these are received under Legal Deposit legislation, allowing the Library to claim a copy of everything published in the UK and Ireland (everything from children's books to science journals, election leaflets to magazines and websites). www.nls.uk / @natlibscot / facebook