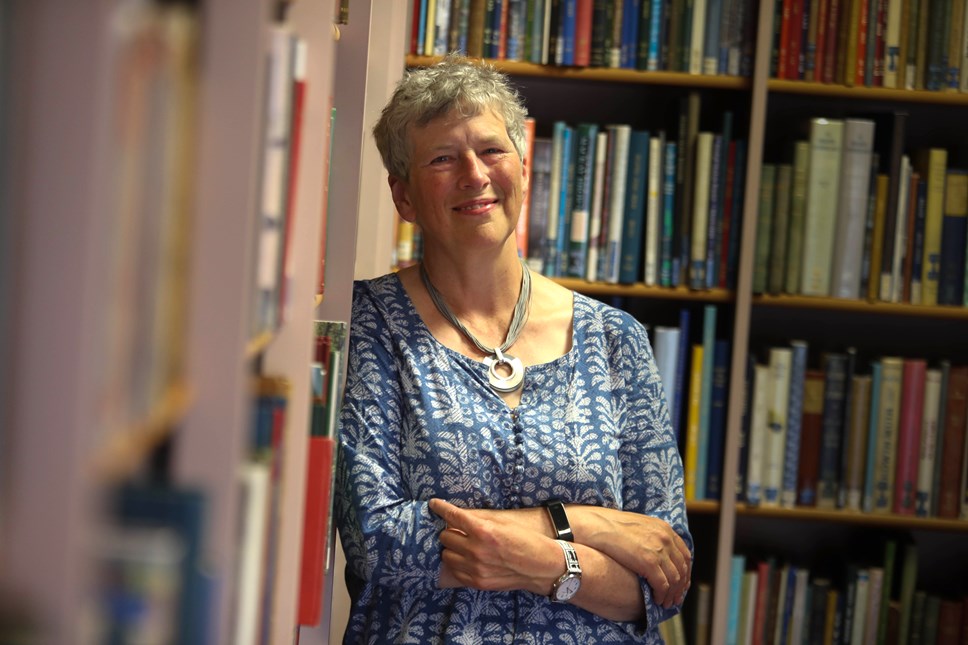 Orcadian Scriever appointed
The National Library of Scotland has announced the appointment of Alison Miller in the role of Orkney Scriever.
The one-year Scriever residency was created to celebrate the richness of the Orcadian dialect, acknowledging the islands as a stronghold for the Scots language. It is based at the National Library of Scotland and Orkney Library & Archive, supported by funding from the National Lottery through Creative Scotland.
Alison Miller, Orkney Scriever, said: "A'm ferly plaesed A'm been meed Scots Scriever fir Orkney this year. Hid is right grand tae think A'll hae more time tae spend wae fokk that spaek Orcadian an want tae write in wir mither tongue – the parteeclar language o the Northern Isles.
"'Skreever' in Orcadian is a howlan gale – a good wind tae hae at me back fir me own writeen. Hid is gan in a few different directions at the meenit. Haean this year tae focus on hid as weel as on ither fokks' writeen is the sixpence in the clootie duff*!"
Miller's role will be to raise the profile, understanding and appreciation of Orcadian and Scots by producing original work, as well as working alongside local communities in Orkney.
Miller writes in both Orcadian and English and is a published author and creative writing workshop facilitator. She is the author of 'Demo', a coming-of-age novel about a Glasgow girl during the lead-up to the Iraq war. She has also written short stories, essays and poetry reflecting on life in Orkney, island life, language and literature. Miller worked as reader in residence at the Scottish Book Trust, as a writer and tutor for Scottish PEN's Many Voices project, and more recently, as lead reader for Open Book in Orkney.
Alan Bett, Head of Literature and Publishing at Creative Scotland said: "The placement of the Scriever in Orkney this year and the focus on the Orcadian language is an exciting shift for the residency. Alison Miller is a fantastic appointment and her long track record of working in Orcadian will ensure the richness of the language is celebrated, not only through a programme of public engagement, but also through the creation of new and original written work."
As part of the residency, Miller will have the opportunity to research collections at both the National Library of Scotland and Orkney Library & Archive.
Karen Walker, Team Leader at Orkney Library & Archive, said:
"We are delighted that Alison Miller has been appointed as our Orcadian Scots Scriever. She has a wealth of experience of writing in and speaking Orcadian which will allow our dialect to reach a wider audience and help preserve Orkney's rich cultural heritage.
"Access to archive documents at Orkney Library & Archive and the National Library of Scotland will ensure a wide variety of source material to inspire the imagination. We are very much looking forward to working with Alison and enjoying the results of new creative Orcadian writing."
National Librarian Dr John Scally said:
"Alison Miller has demonstrated her passion and experience of Orcadian, with a strong track record as a writer, creative writing facilitator and event host. She has spent her life promoting Orcadian and uses the language across several mediums, and we are all looking forward to working with her throughout her residency."
Alison Miller starts the Orkney Scriever residency next week (Monday 19 July).
Contact Information
Barbara Burke
National Library of Scotland
+44131 623 3738
+447904 791002
Notes to editors
Alison Miller
Miller's recent work has been published in Archipelagos (Ed. Uni); Between Islands (An Lanntair); Orkney Stoor, Speak for Yourself, Turangawaewae, Beuy (Abersee Press); That Bright Lifting Tide (George Mackay Brown Fellowship).
Creative Scotland
Creative Scotland is the public body that supports the arts, screen and creative industries across all parts of Scotland on behalf of everyone who lives, works or visits here. We distribute funding provided by the Scottish Government and The National Lottery. Further information at creativescotland.com. Follow us on Twitter, Facebook and Instagram.
National Lottery
Thanks to National Lottery players, around £30 million is raised every week for arts, community, education, environment, health, heritage and sport projects. Since 1994, The National Lottery has raised more than £42 billion for over 625,000 good causes across the UK. https://www.national-lottery.co.uk/ 
National Library of Scotland
The National Library of Scotland is a major European research library and one of the world's leading centres for the study of Scotland and the Scots – an information treasure trove of Scotland's knowledge, history and culture.
The Library's collections are of world-class importance. Key areas include rare books, manuscripts, maps, photographs, music, moving images, official publications, science and technology, and modern collections.
The Library holds more than 30 million physical items dating back over 1000 years in addition to a growing library of digital material. Every week the Library collects around 5,000 new items. Most of these are received in terms of Legal Deposit legislation, allowing the Library to claim a copy of everything published in the UK and Ireland (everything from children's books to science journals, election leaflets to magazines and websites). www.nls.uk / @natlibscot / facebook