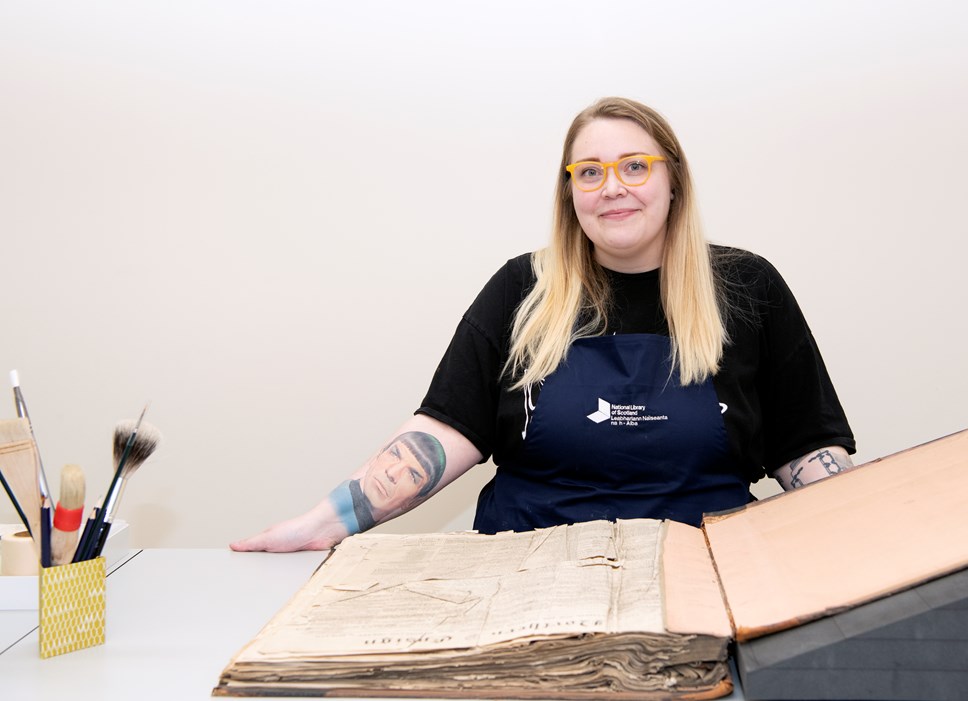 Save Our Stories! We need your help to protect our newspaper collection
Centuries of Scottish social history are in danger of being lost if funding is not found for urgent work to protect and preserve the National Library's vast collection of Scottish newspapers.
The titles – dating from 1641 – come from the length and breadth of Scotland, from the Western Isles to the Borders, and offer a window into our collective past. Newspapers are one of the few, if not only, chronicles of both the defining, major events in our history and the everyday moments in our lives. From birth announcements and the price of a pint to football scores and adverts for clothing stores, our newspapers tell us about our shared histories.
The Library has been collecting newspapers since 1925 but its collections date from as early as 1641 – the earliest newspaper printed in Scotland, 'The heads of severall proceedings in the present Parliament', which reprinted news from London.
Newspapers are not designed to be kept and are printed on cheap, fragile paper that degrades quickly. Therefore, much of the Library's large and significant collection has suffered significant deterioration due to the inherent instability of the paper. The demand for their use also results in unintentional wear and tear – newspapers are the most requested items at the Library's reading rooms.
Many of the older papers came to the Library in an already poor condition. The Library's climate- and PH-controlled storage can only slow their degradation, not stop it outright. With the public's support and donations, the Library's conservators can carry out repairs and prepare pages for digital scanning, so that these stories can be saved for people now and in the future. Without urgent action, an estimated 65 per cent of the Library's newspapers – and the unique stories they tell – could be lost. That is why the Library is launching an appeal to Save Our Stories.
Award-winning crime writer Val McDermid regularly uses the Library's collections for research. She said: "The seventh Karen Pirie novel starts with an eagle-eyed librarian spotting something very odd in an archive bequeathed by a recently deceased author. It leads to a major cold case investigation…
"But it's not just writers of fiction for whom the newspaper archive is a vital resource. Historians, cultural commentators, investigative journalists – they all rely on this valuable resource to paint a picture of our past as it was experienced by the people who lived it. Without it we are poorer as a nation."
Conservator Claire Hutchison, who is working with the most at-risk papers said: "Our history is in our newspapers and they are the most requested items in our collections. But our newspaper collections are incredibly fragile and very brittle. We're fighting a losing battle to carry out preservation work. There are limits to what we can achieve, but I can repair tears and treat paper so it can be digitised.
"We're also working with local libraries to carry out conservation work on their collections. These papers have local histories that aren't recorded anywhere else. This is such important work."
The Library's collection comprises 961 titles – from the 'Aberdeen Press and Journal' and 'Dundee Courier' to the 'Highland News', 'Orkney Times', 'Buchan Observer' and 'Ayrshire Post' – and includes rare gems such as the first copy of 'The Scotsman', dated January 25, 1817.
To donate to the Library's appeal, visit nls.uk/support-nls/newspapers
Contact Information
Barbara Burke
National Library of Scotland
+44131 623 3738
+447904 791002
Notes to editors
The National Library of Scotland has been collecting newspapers since our foundation in 1925 and holds millions of titles, including the earliest newspaper printed in Scotland, 'The heads of severall proceedings in the present Parliament' (Edinburgh, 1641). Learn more about our conservation work, collections and Save Our Stories appeal on our website.
National Library of Scotland
The National Library of Scotland is a major European research library and one of the world's leading centres for the study of Scotland and the Scots – an information treasure trove for Scotland's knowledge, history and culture. The Library's collections are of international importance. Key formats include rare books, manuscripts, maps, photographs, music, moving images and official publications.
The Library holds more than 30 million physical items dating back more than 1000 years as well as a growing library of digital material. Every week the Library collects around 5,000 items. Most of these are received under 'legal deposit' legislation, allowing the Library to claim a copy of everything published in the UK and Ireland.