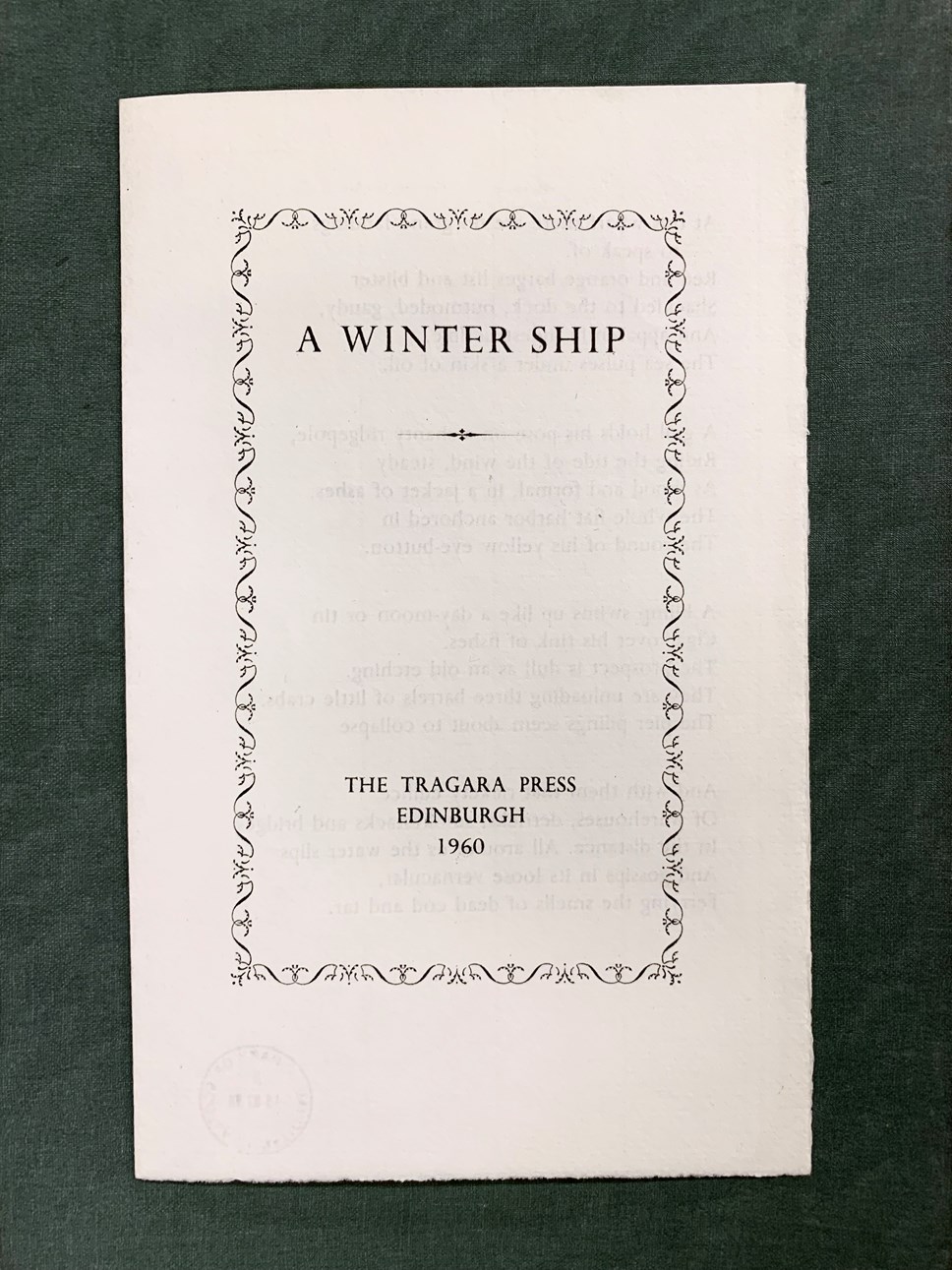 Sylvia Plath's first work added to the national collections
The National Library of Scotland has acquired the first standalone publication of Sylvia Plath's work – which was printed in Edinburgh.
No more than 60 copies of the poem A Winter Ship were made by Tragara Press, Scotland's leading private press of the 20th century. Its founder and sole operator, Alan Anderson, came across the poem through correspondence with Plath's husband Ted Hughes.
Rare Books Curator Graham Hogg said:
"Anderson was impressed with a short story by Hughes and asked if he had anything else that he could print. It was then that Hughes suggested a poem by his wife, Sylvia Plath.
"Like the rest of the public, Anderson had never heard of her before. He printed off two proof copies of the poem and Plath chose the one she liked best and sent it back to him with some corrections, and kept the other for herself. Anderson printed around 60 copies, which were gratefully received by Plath in July 1960. In a letter to her mother in December of that year she mentioned that she had been writing lots of Christmas cards and in many of them she enclosed copies of the leaflet poem. Now we have one of them in our collections."
The addition of A Winter Ship also brings the Library closer to achieving a complete set of Tragara Press publications. From 1954 to 2012, Anderson printed 140 works on his own printing press – many of them literature and articles by authors from the 1890s, as well as contemporary 20th-century poets.
Graham Hogg added:
"Among book collectors, Anderson was renowned for the quality of his printing, his impeccable taste and his scholarship. His printing was elegant and understated – for him, the text itself was what was most important, and the high quality of the printing was merely an aid to appreciating it.
"It was a labour of love – Anderson wasn't in it for the money. He enjoyed almost six decades of printing what he wanted when he wanted. And he was clearly astute enough to know back in 1960 that Ted Hughes and his hitherto unknown wife would be influential figures in the world of English-language poetry for decades to come."
The Library bought A Winter Ship from a London-based bookseller last month, which was added to the Tragara Press Collection. The collection is available for viewing at the National Library of Scotland's Special Collections Reading Room.
Contact Information
Barbara Burke
National Library of Scotland
+44131 623 3738
+447904 791002
Notes to editors
Tragara Press
Born in Dunfermline in 1922, Alan Anderson served in the Royal Navy during the Second World War. After military service he worked in the family drapers firm, but a few years later he succumbed to his love of collecting books by taking a job as an antiquarian bookseller in Edinburgh.
In 1953 he attended evening classes on printing at Edinburgh College of Art and subsequently acquired his first treadle platen press, naming it after a favourite holiday destination, the Via Tragara on the island of Capri.
To begin with, printing was an occasional pastime for him while he concentrated on bookselling, first at John Grant's and then in his own bookshop on Dundas Street. In 1974 he decided to work full-time on printing and publishing, producing pamphlets, usually with small print runs, on a diverse range of subjects.
From the early 1990s onwards Anderson largely concentrated on producing privately commissioned work for other publishers. He spent the final years of his life in Beauly, continuing to do occasional printing until failing eyesight forced him to stop in 2012. He passed away in the summer of 2016, aged 94.
The National Library of Scotland
The National Library of Scotland is a major European research library and one of the world's leading centres for the study of Scotland and the Scots - an information treasure trove for Scotland's knowledge, history and culture.
The Library holds more than 26 million physical items dating back over 1000 years in addition to a growing library of e-books, e-journals and other digital material. Every week the Library collects around 3,000 new items. Most of these are received free of charge in terms of Legal Deposit legislation.