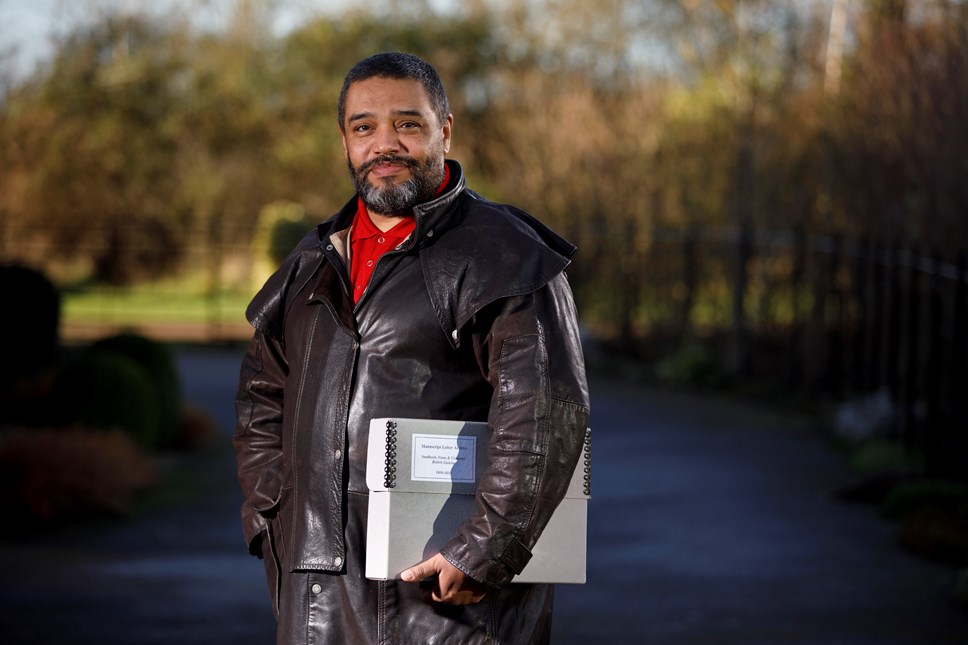 National Library partners with Malik Al Nasir to launch fitba research club
National Library partners with Malik Al Nasir to launch fitba research club
The National Library of Scotland has partnered with Yesternight Productions Director, Malik Al Nasir, to develop a pilot project in Glasgow based on Andrew Watson, the world's first Black International footballer.
Poet, activist and scholar Malik Al Nasir (formerly Mark Watson) is an ancestral cousin of the 19th–century sportsman. Mr Al Nasir's considerable body of work includes award-winning projects based upon his academic research exploring his ancestry. His work also explores how his personal story up to the present day is bound up in the UK's legacy of enslavement and colonialism, of which the negative effects are still evident.
The National Library is working with community organisations in Glasgow – as well as with the Scottish Football Association, the Scottish Football Museum, and Show Racism the Red Card – to recruit paid participants (young people aged 18–25) for the project. It will seek to encourage underrepresented and minoritised young people to engage with cultural heritage through celebrating the sporting achievements of Black people and people of colour in Scotland.
Mr Al Nasir said:
"My work looks at the legacies of slavery and colonialism and encourages reparative justice. I also encourage institutions to create opportunities for marginalised groups who suffer from this colonial legacy to develop their skills in interrogating and responding to their cultural heritage. It's about making these spaces accessible to people who don't see themselves in a cultural institution or university setting. This Andrew Watson project is one such example of helping organisations to be more accommodating to those who could really benefit from the experience.
"In deference to Andrew Watson and my own Scottish roots, I was looking for a word that would symbolise what we're trying to do in terms of Watson's legacy and came across 'fitba'. Seeing as it's Scots for 'football', it immediately came to me as an acronym for 'football in the Black archives'. It just kind of worked – so this is a fitba project."
National Librarian Amina Shah said:
"Stories such as Andrew Watson's have been under-researched and under-celebrated so far in Scotland's story. This project, generously funded by the Scottish Library and Information Council, will allow us to uncover hidden histories and give them the prominence they deserve."
Richard McBrearty, Curator at the Scottish Football Museum said:
"For the last two decades the Scottish Football Museum has studied, promoted and celebrated the achievements of Andrew Watson and we are still learning about the life of this outstanding sporting figure of the 19th century, particularly the challenges that he faced as an individual. This project will greatly contribute to the study and celebration of Watson as a sporting icon but, significantly, will also acknowledge important but sensitive subjects such as Scotland's colonial past."
Robin Drummond, Equality, Diversity & Inclusion Manager at the Scottish FA said:
"The Scottish FA and Scottish Football Museum are proud to be working alongside Malik Al Nasir, the National Library of Scotland, and Show Racism the Red Card.
"We look forward to welcoming all involved in this exciting project investigating untold stories from Scottish sporting history.
"Andrew Watson is rightly celebrated as a pioneering and historic figure in Scottish and international football, but he is by no means the only person of colour in the long and diverse story of our national game.
"The Scottish FA is excited to work in collaboration to shine a light on the lesser-known stories of our game's history."
The project will be based at the National Library at Kelvin Hall, which is also home to the Library's Moving Image Archive, Glasgow Life's sporting facilities, and the University of Glasgow. Kicking off in mid-July, it will run over the summer and autumn, concluding in early December.
Contact Information
Barbara Burke
National Library of Scotland
+44131 623 3738
+447904 791002
Notes to editors
More information about the project and how to apply can be found on the Fitba Research Club website.
About Andrew Watson
Andrew Watson (1856–1921) was born in Demerara, British Guiana (now Guyana), the son of Anna Rose, a Guyanese free woman of colour and a rich Scottish slave and plantation owner, Peter Miller Watson.
Watson attended an English public school, but was registered there as an orphan, although his father was still alive. As one of football's "Scotch professors" he helped bring the passing and running game to England. He was also the first Black football administrator, a businessman, an engineer, a crew member on several Atlantic crossings, a Govan resident, and a gentleman.
In 1881 Watson captained Scotland against England in London: Scotland won the match 6–1, a result which is still England's record home defeat.
About Malik Al Nasir
Malik Al Nasir is an author, poet and academic from Liverpool. His memoir 'Letters to Gil' is a compelling account of his childhood experiences in a brutal UK Local Authority care system, which at eighteen, left him traumatised, semi-literate, homeless, and destitute. A chance meeting with poet and activist Gil Scott-Heron was to prove life changing, setting him on a path to success. Malik is currently reading for a PhD in history at University of Cambridge on a full ESRC scholarship, and he's recently been awarded the prestigious 'Sydney Smith Memorial Prize' for 'outstanding achievement' at St Catharine's College, Cambridge as well as The Vice Chancellors Award for 'Global Impact'.
Malik's socials:
Twitter / Instagram - @malikandtheogs
Malik's blog: http://malikandtheogs.blogspot.com
The National Library of Scotland
The National Library of Scotland is a major European research library and one of the world's leading centres for the study of Scotland and the Scots – an information treasure trove for Scotland's knowledge, history and culture.
The Library's collections are of international importance. Key formats include rare books, manuscripts, maps, photographs, music, films and official publications.
The Library holds more than 30 million physical items dating back more than 1,000 years as well as a growing library of digital material. The Moving Image Archive preserves and promotes access to thousands of films, capturing Scotland from the early days of film-making to the present day. www.nls.uk / @natlibscot / facebook